Whittakers Artisan Squares Selection (189g)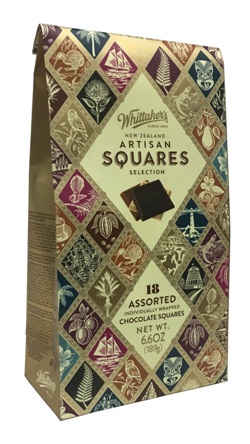 ---
Product Information
Product Weight:
200g *
Expected Shelf Life:
at least 30 days
- email us to check the best before date of our current stock
* 20% is added for padding and packaging to calculate the parcel weight
---
Ingredients - West Coast Buttermilk Caramelised White Chocolate

White Chocolate (Sugar, Pure Cocoa Butter 28%*, ButterMilk Powder 15%*, NZ Milk Powder 15%*, Emulsifier (Soy Lecithin), Cocoa Mass, Natural Flavours, Vanilla Flavour)
* Minimum percentage.
May be present: Peanuts, Tree Nuts, Gluten

* For allergens, see ingredients in bold


| Nutrition Information | per 100g |
| --- | --- |
| Energy | 2250 kj / 538 kcal |
| Fat | 31.3 g |
| -- of which saturates | 18.5 g |
| Carbohydrate | 56.5 g |
| -- of which sugars | 48.4 g |
| Protein | 7.7 g |
| Salt | 240 mg |
Ingredients - Malborough Sea Salt and Caramel Brittle in Milk Chocolate

Milk Chocolate (Sugar, Cocoa Solids 33%* (Pure Cocoa Butter & Cocoa Mass), NZ Milk Powder 30%*, Emulsifier (Soy Lecithin), Vanilla Flavour); Salted Caramel Pieces 10% (Sugar, Glucose, Salt, Clarified Butter (from Milk), Water, Emulsifer (Soy Lecithin, Natural Flavour, Natural Colour (E150A))
* Minimum Percentage.
May be present: Peanuts, Tree Nuts, Gluten

* For allergens, see ingredients in bold


| Nutrition Information | per 100g |
| --- | --- |
| Energy | 2250 kj / 538 kcal |
| Fat | 31.3 g |
| -- of which saturates | 18.5 g |
| Carbohydrate | 56.5 g |
| -- of which sugars | 48.4 g |
| Protein | 7.7 g |
| Salt | 240 mg |
Ingredients - Malborough Sea Salt and Caramel Brittle with Saffron in Dark Chocolate

Dark Chocolate (Cocoa Solids 62%* (Cocoa Mass & Pure Cocoa Butter), Sugar, Emulsifier (Soy Lecithin), Vanilla Flavour); Saffron Salted Caramel Pieces 12% (Sugar, Glucose, Saffron Infused Salt, Clarified Butter (from Milk), Water, Colour (160A), Emulsifier (Soy Lecithin), Natural Flavour)
* Minimum Percentage.
May be present: Peanuts, Tree Nuts, Gluten

* For allergens, see ingredients in bold


| Nutrition Information | per 100g |
| --- | --- |
| Energy | 2250 kj / 538 kcal |
| Fat | 31.3 g |
| -- of which saturates | 18.5 g |
| Carbohydrate | 56.5 g |
| -- of which sugars | 48.4 g |
| Protein | 7.7 g |
| Salt | 240 mg |
Ingredients - Wellington Roasted Supreme Coffee Dark Chocolate

Dark Chocolate (Cocoa Solids 50%* (Cocoa Mass & Pure Cocoa Butter), Sugar, Emulsifier (Soy Lecithin), Vanilla Flavour); Supreme Coffee 8%; Pure Cocoa Butter
* Minimum Percentage.
May be present: Milk, Peanuts, Tree Nuts, Gluten

* For allergens, see ingredients in bold


| Nutrition Information | per 100g |
| --- | --- |
| Energy | 2250 kj / 538 kcal |
| Fat | 31.3 g |
| -- of which saturates | 18.5 g |
| Carbohydrate | 56.5 g |
| -- of which sugars | 48.4 g |
| Protein | 7.7 g |
| Salt | 240 mg |
Ingredients - Hawkes Bay Black Doris Plum and Roasted Almonds in Dark Chocolate

Dark Chocolate (Cocoa Solids 50%* (Cocoa Mass & Pure Cocoa Butter), Sugar, Emulsifier (Soy Lecithin), Natural Flavour, Vanilla Flavour); Roasted Almonds 5%; Freeze Dried Plum Pieces 1.5%
* Minimum Percentage.
May be present: Milk, Peanuts, Other Tree Nuts, Gluten

* For allergens, see ingredients in bold


| Nutrition Information | per 100g |
| --- | --- |
| Energy | 2250 kj / 538 kcal |
| Fat | 31.3 g |
| -- of which saturates | 18.5 g |
| Carbohydrate | 56.5 g |
| -- of which sugars | 48.4 g |
| Protein | 7.7 g |
| Salt | 240 mg |
Ingredients - Nelson Pear and Manuka Honey in Milk Chocolate

Milk Chocolate (Sugar, Cocoa Solids 33%* (Pure Cocoa Butter & Cocoa Mass), NZ Milk Powder 30%*, Emulsifier (Soy Lecithin), Vanilla Flavour, Natural Flavour); Pear & Honey Pieces 10% (Pear Puree 33%, Concentrated Apple Puree, Invert Sugar, Sugar, Humectant (Glycerol), Manuka Honey 2.5%, Wheat Fibre, Gelling Agent (Pectin), Natural Flavour, Acidity Regulator (Citric Acid))
* Minimum Percentage.
May be present: Peanuts, Tree Nuts.

* For allergens, see ingredients in bold


| Nutrition Information | per 100g |
| --- | --- |
| Energy | 2250 kj / 538 kcal |
| Fat | 31.3 g |
| -- of which saturates | 18.5 g |
| Carbohydrate | 56.5 g |
| -- of which sugars | 48.4 g |
| Protein | 7.7 g |
| Salt | 240 mg |
---
Customer rating and reviews for
Whittakers Artisan Squares Selection (189g)
Rate this product and be in with a chance to win a £5 shopping voucher!


Artisan Squares
By Katie
Fast shipping an such a good reminder of back home
Wow
By PJ Bainbridge
My friend brought these to London for me to try and now just getting some more online. I adore all of the flavours and the creativity of the flavours and packaging. Thank you so much!!! A great reminder of home!