VB - Victoria Bitter (6 x 375ml bottles)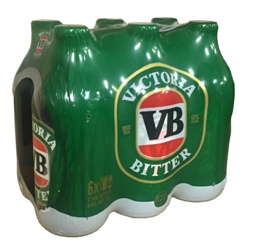 ---
Contains Cereals containing gluten.

* For allergens, see ingredients in bold


---
Customer rating and reviews for
VB - Victoria Bitter (6 x 375ml bottles)
Rate this product and be in with a chance to win a £5 shopping voucher!


Very Best
By Jai
A hard thirst, deserves an ice cold beer. And the best cold beer is Vic. Victoria bitter
Matter of fact, I wish I had one now
By Ian
An easy beer to drink. Great flavour and the stubbies are a good size. One of the things I miss most from Oz.
Wonderful beer!
By Samuel Edwards
Refreshing beer that I wish was more common in the UK. Will definitely get more for the summer.
Vb
By Lia
My partner went to Australia and sense then we have been looking in all the shops and finally we found. Thank you
The best cold beer
By Matt C
The iconic Aussie beer is one to serve ice cold for supreme refreshment.. Happy memories of many a VB down under. A classy which for a lager has a slightly creamy aftertaste that sets it apart from other beers. Good news that they've stopped mucking about with the alcohol volume, truly back to its best
A convert
By Alan
I have just returned from a visit to Sydney where I was introduced to VB. I'm not normally much of a beer drinker but VB became a firm favourite. I'm going to try and get it in the UK
VB
By Tom & Dawn
The best ever.
Thanks I've missed it sooooo much
xxx
The Very Best!
By Haircut
This really is the Very Best beer in the world. It should be sold everywhere! Not only my favourite beer but also my favourite drink! If only we could get it at the aussie price!
What i reckon
By Phil
Its one of the best beers ever!! No i'm not from Frankston!
Love IT!!!!
By Rob
Great Oz Beer! Every Stuby is Heaven....

---
Customers who bought this product also enjoyed the following products: